Demo Available Instore
The compact, 8mph road-ready mobility scooter.
Faster, stronger and longer – the S425 crams in all of the features of its little brother, but with added power! Taking the bright, front/rear LED lights, all-round suspension and combining it with a maximum speed of 8mph, the S425 is fully legal for road use as well as on pavements. As you'll be travelling on roads, the increased wheel height (30cm) will help to tackle those usual outdoor obstacles with ease. Fancy venturing a little further? The larger battery size of 55Ah will help to power your way. Plus with the S425's unique carbon-metallic colour, heads will turn just as easily as your S425 does!
All-Round Suspension
With the S425's larger 30cm pneumatic wheels and all-around adjustable suspension system, you're always ensured of a comfortable ride when navigating over bumpy terrain or tackling those tricky drop-kerbs. Plus with the optional heavy duty rear-suspension kit for the S425 mobility scooter, you're also able to achieve an even firmer and stiffer ride!
Powerful LED's to light your way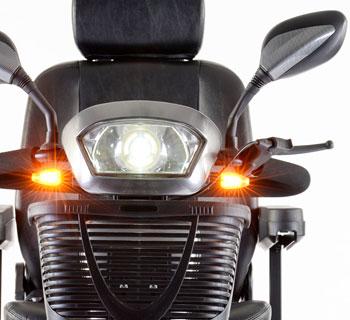 With advanced LED lighting technology, the lights on the S425 mobility scooter are 400 times more energy efficient than standard bulbs, so not only are you using less battery power on every trip, you also won't have to worry about changing bulbs either. Powerful and approved for road-use, it won't just be the S425's style that attracts attention.